I recently found two webcomics that I really enjoy. What separates them from my regular list of comics is that they are not drawn, they are comprised of photographs.
The first,
Surviving the World
is a daily dose of common and uncommon wisdom. Straight from the Fred Paulson Institute in Wincheck City, Pennsylvania, Dante Shepard shares his musings on life and answers questions from readers.
The other one I found is a German photocomic called
Union of Heroes
which follows the adventures of Marc, who was just a regular guy in our world. Now, he has been pulled to an alternate universe to replace his double, the superhero Erzengel (archangel). Plus, there's a girl who is always dying for someone else and a madman who thinks he's Ares, the God of War. With some nifty special effects, Union of Heroes does a fine job of creating an alternate universe where superheroes exist.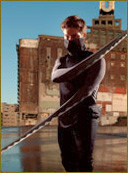 So yeah, you should check them out.